Introduction
This guide is for all app developers and publishers who wish to monetize the ad inventory on their iOS or Android apps using the light weight InMobi SDK. Before you begin integrating the SDK into your app, please follow the steps below to set up an account with InMobi, register your app and create ad placements:
Along the way, we have highlighted important guidelines and best practices to ensure you have everything in place to monetize your app quick and easy without our assistance. Ensure that you pause for a moment to read through these messages.

Signup with InMobi
Now that you're here and InMobi is the chosen one, what are you waiting for? Let's get started with your account right away. To set up an InMobi account:
Sign up as a publisher.
A verification email with a link will be sent to your registered email address. Click on the link to complete the verification process. (This address will be used for any future communication about your account).
On log in, choose the applicability pertaining to GDPR.

Register your App
Once you have created an account, you can proceed to register your app with InMobi. The following steps are only meant for apps published in an app store. Let's proceed.
Click Add an app.

Select your relevant Operating System.
Enter a valid app store URL.
Click Add to list additional apps you wish to monetize.

View your completed profile from the drop down next to your user name.
Note
Please take a moment to read the compliance guidelines for properties directed to children below 13 years, and then select the check box if it applies to you.

Register an Unpublished App
If you have an unpublished app that is not live in the app store, just follow the simple steps below:
Sign up as a Publisher.
Complete the verification e-mail sent to the registered ID (The registered email ID here will receive all the communication).
Choose the applicability pertaining to GDPR.
Click Add App as shown in the dialog box.
Choose Operating System.
When it's published, you can return to InMobi and link your app to its app store entry.
Note
For apps without a URL, the test mode is enabled by default. Once live, you can click the link to enter the URL on the dashboard as shown below.

Update Payment Profile
Create, verify and activate your payment profile to make your earnings tangible! InMobi follows a payout cycle of 60 days. This means that your earnings for a given month will be credited to you at the end of the 60-day payout cycle. You have the option of receiving your payouts via PayPal or wire transfer/RTGS.
Note
This is a mandatory step and all publishers are requested to complete the details to monetize successfully.
Select Earnings from the drop down next to your user name.
Select Add Account.
Add the following details:

Mode of Transfer
Bank Details
PAN Card Details
GST Details

Once the setup is done, you will get an overview of your Payment Page.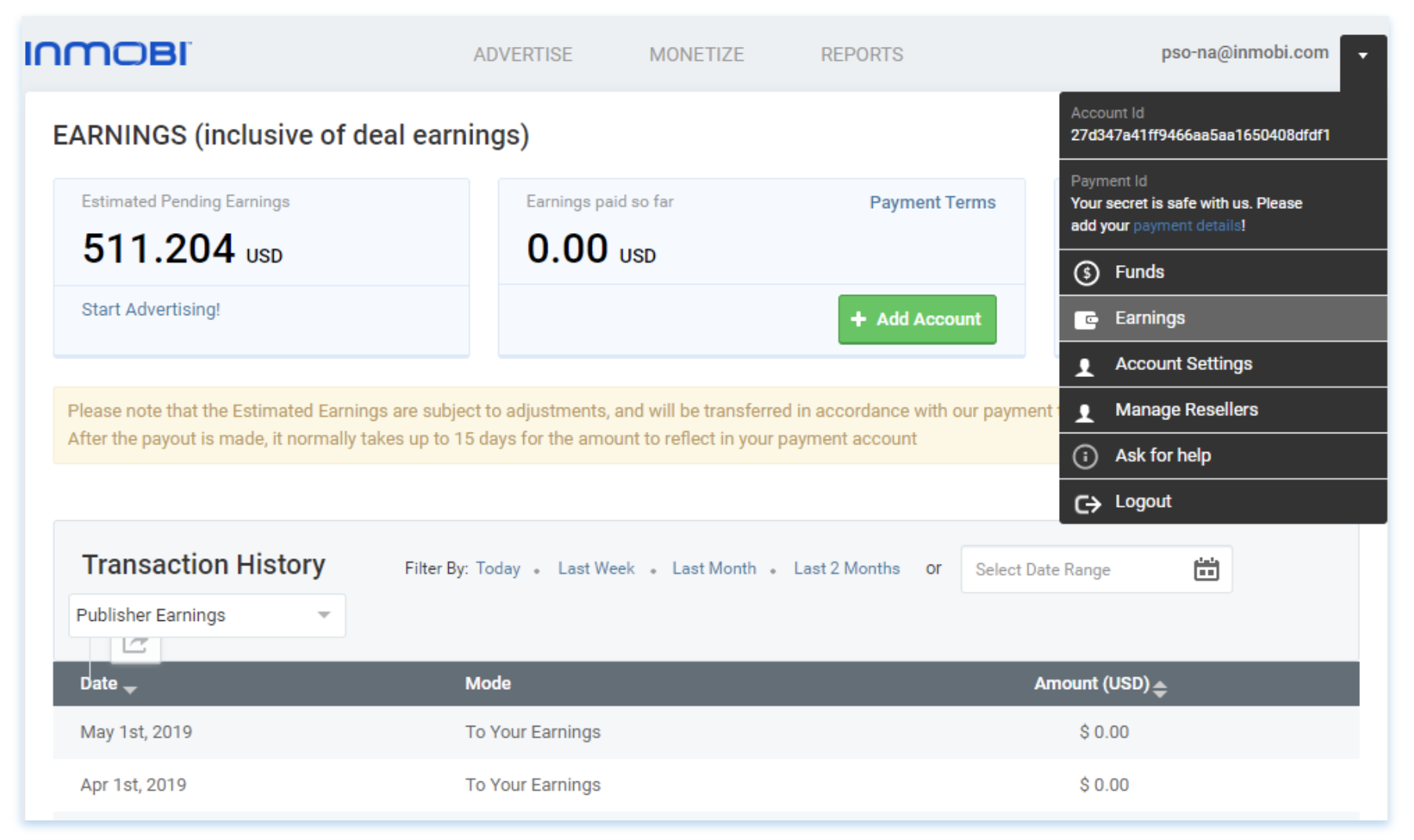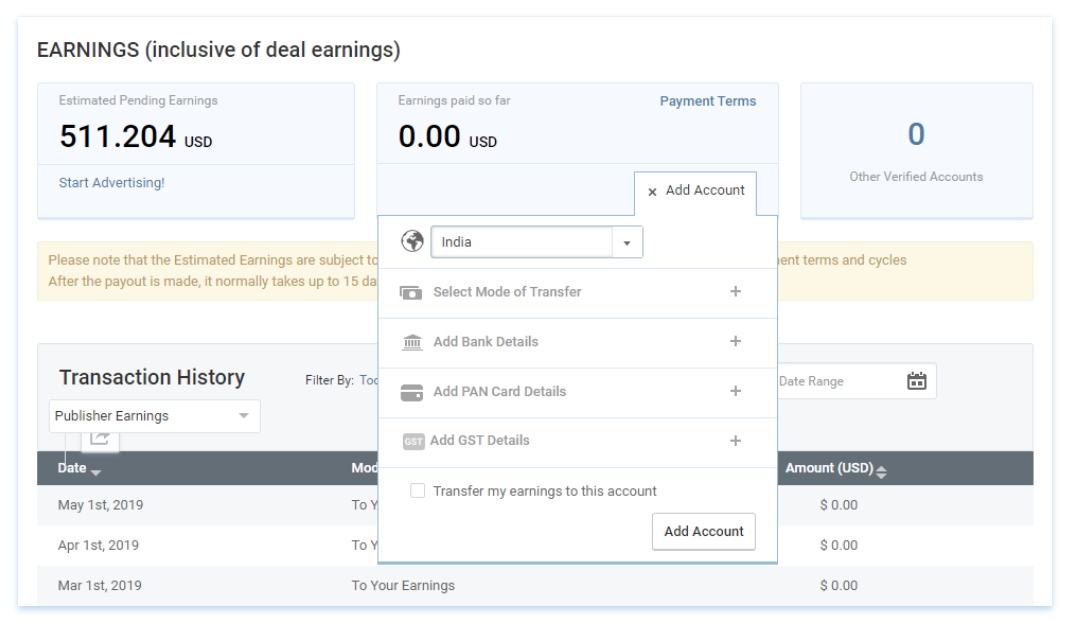 Note
Your Payment Id is available under your account summary as shown below. You will be able to view it, after the payment details you provided are verified and approved.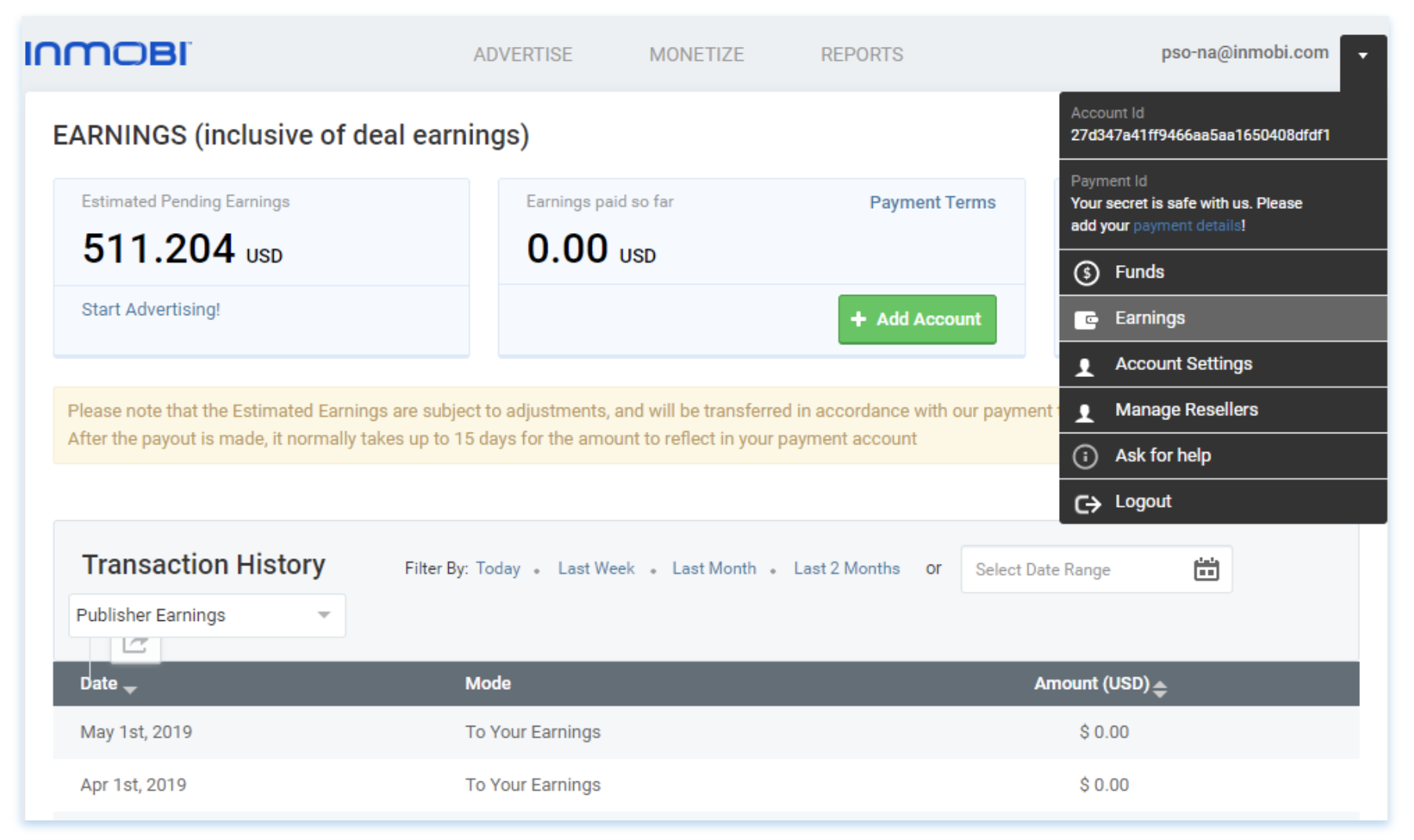 Control Ad Experience with Filters
By using the blocking controls built into InMobi, you can curate the experience shown to the user by reviewing and controlling the ads that appear in your app. InMobi supports ad filters at three levels to control the ad experience:
Level 1: Domain Filters
You can block ads from specific URLs. For example, you might not want to show your competitors' ads on your apps.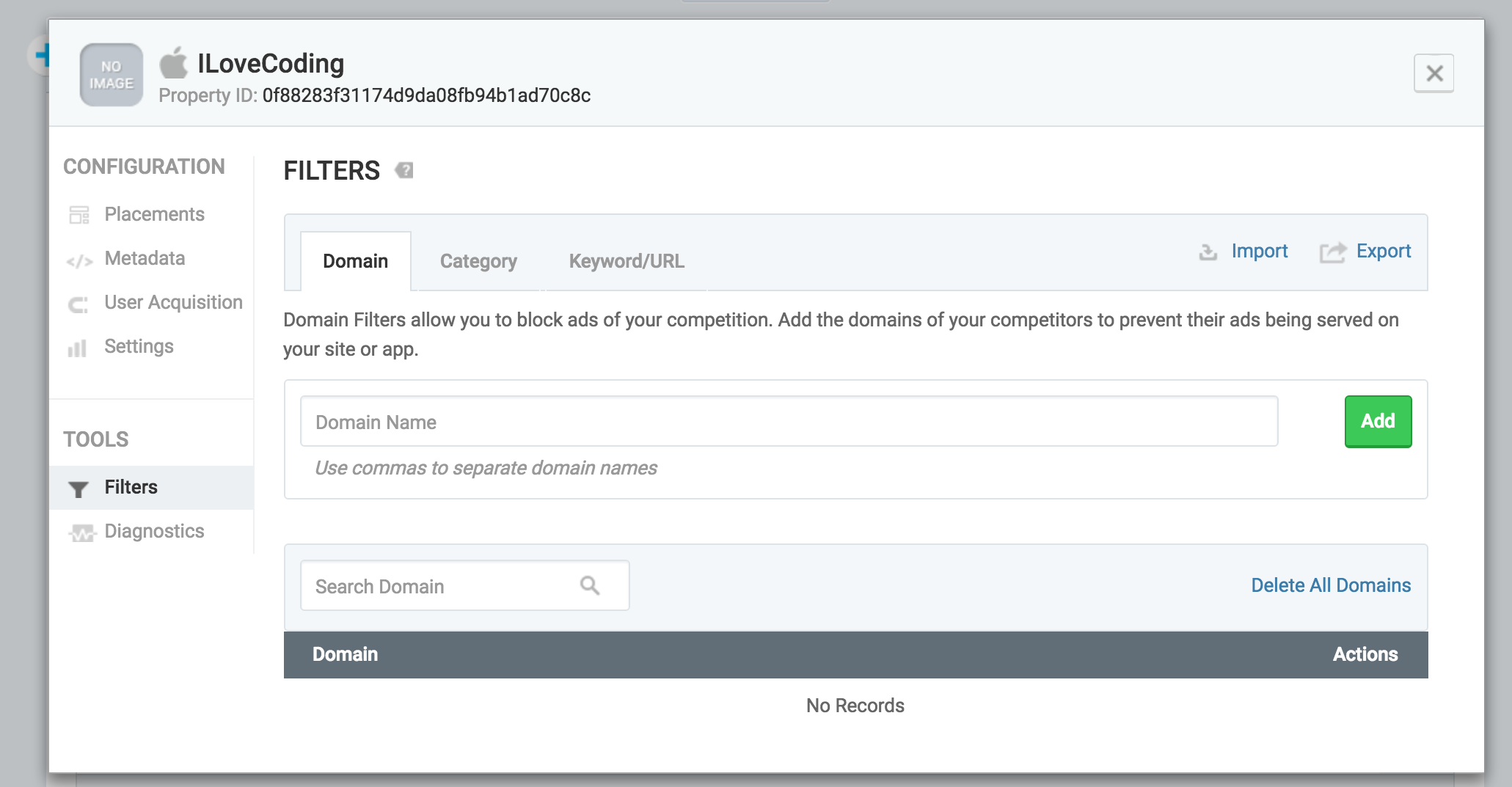 Level 2: URL or Keyword Filters
You can block ads by filtering URLs/Keyword Filters based on their ad text or landing page URL. For example, you can prevent ads containing the text 'weapons' or 'virus' from serving on your site or app.

Level 3: Category Filters
You can block ads from specific categories which will not be served on your app. The categories range from Business, Art, Finance, Fashion etc. For example, an app meant for kids has the option to block ads from specific categories.
Note
InMobi provides provision for blocking sensitive categories. You can block ads being served on content that includes topics such as politics, religion, mature content, gambling, etc.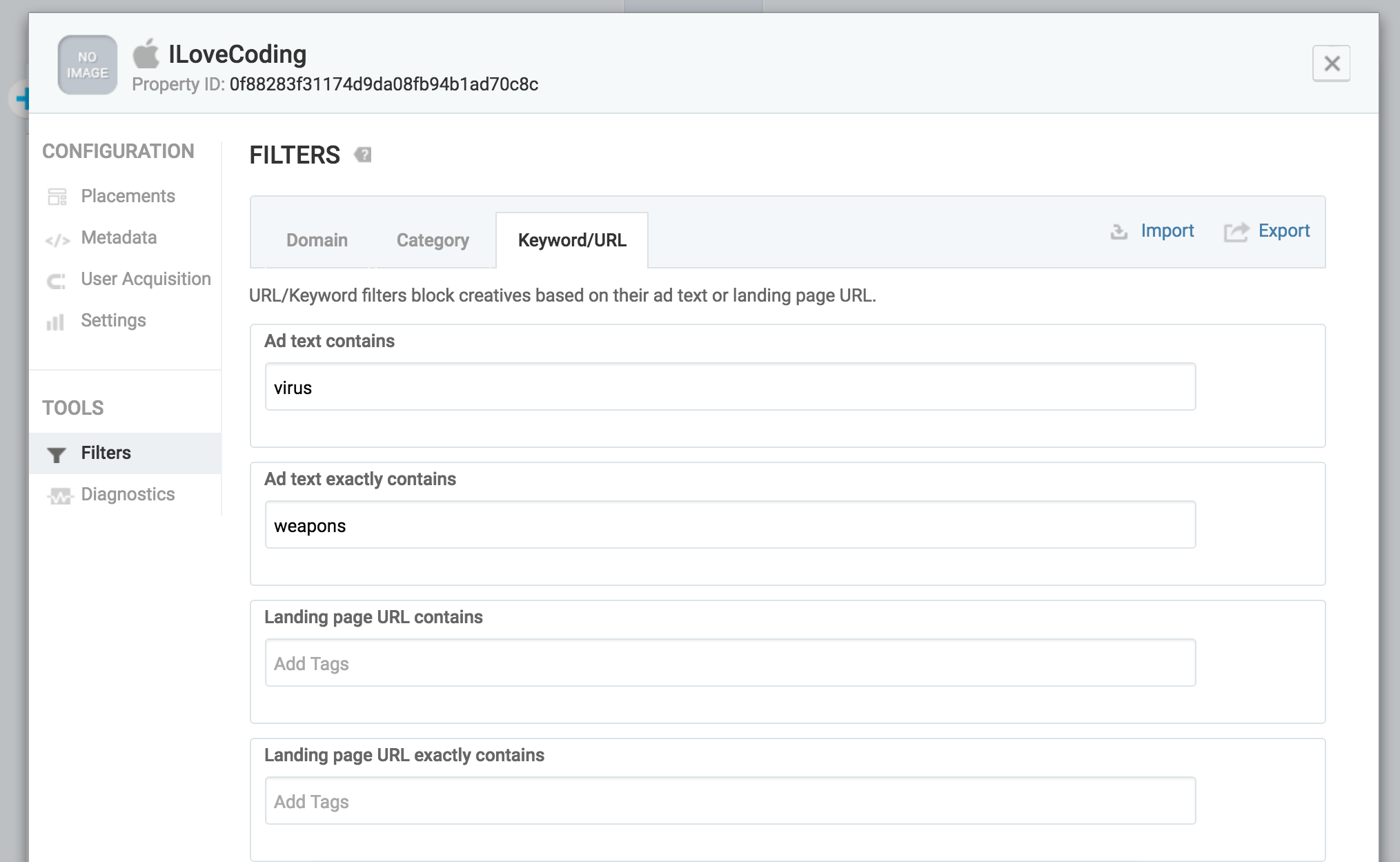 Note
Blocking any ad will lower your potential earnings as it reduces competition for your inventory by removing advertiser bids from the auction. We recommend blocking only those ads that you feel are absolutely irrelevant and inappropriate to your content or your users.