If you have integrated your apps with InMobi SDK (Yay, good going!!) and have started serving ads, the platform performance reports will give you key metrics that impact your earnings. These performance reports help you make calculated decisions to achieve monetization success.
1. How do I download reports from the dashboard?
On the dashboard Visit Reports > All Properties > Choose Measure to view metric filters in dropdown
Use the filters below to deep dive into your app's performance and better understand your ad activity.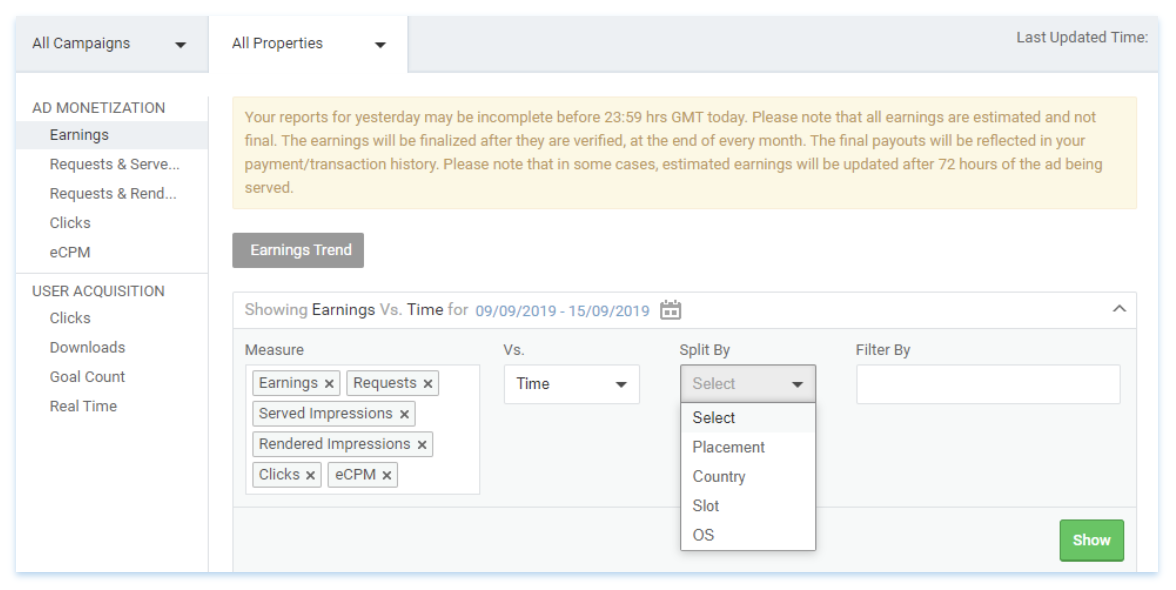 2. How do I generate the reporting API key?
There are two ways to access the API key:
The API key is automatically generated to the registered mail ID after an account is created with InMobi.
Additionally, at the account level visit your Admin panel > Account Settings > 5th drop-down is API key > Generate API key.
Note
You can also validate to check if the API key is correctly linked to your account as shown below:
3. What is the time zone used for reporting?
All InMobi reports are available in GMT timezone.

4. What is the currency used for reporting publisher revenues?
InMobi dashboard reports the publisher revenues in US dollars.

5. How soon does the publisher revenues reflect in the dashboard?
Reports are available for publishers within 24 hours. However, in cases of delay the standard ETA takes upto 48 hours for the system to reflect the publisher revenues. We would recommend that you contact your dedicated partner manager in case you need some help in such cases.
Glossary for reporting metrics:
Metric
Definition
Calculation
eCPM
Effective CPM: Effective cost per Mille

Total earnings /

(Total impressions *1000)
CTR

Click through rates is # of clicks your ad receives

divided by # of times your ad is shown

Total # of clicks /

(Total # of ad impressions)
Total ad requests
Total # of ad requests received from publishers
# of ad requests
Ad impressions served
Ad impressions served by InMobi
# of ad impressions served
Ad impressions rendered
Ad impressions successfully viewed by the user
# of ads rendered
Fill Rate
The percentage of ad served from ads requested
% of successful impressions / (Total # of requests)
Ad render rate
The percentage of served ads rendered

# of ads rendered /

(# of ad impressions served)
Publisher Revenue
Total revenue to publisher