monetize
| Audience Bidding (Header Bidding)
Audience Bidding is InMobi's In-app Header Bidding solution. You can leverage unique audience intelligence to pre-fetch audience-driven bids from 70+ DSPs with a single call to our in-app header bidding SDK.
Important:
1. If you wish to get started with Audience Bidding, then begin by downloading our Mediation/Header Bidding SDK for iOS and Android.
2. To create an account or set up placements, visit https://platform.aerserv.com/login
Audience Bidding works hand-in-hand with your existing mediation platform. The following guides will help you get started with:
Here's how Audience Bidding will help you: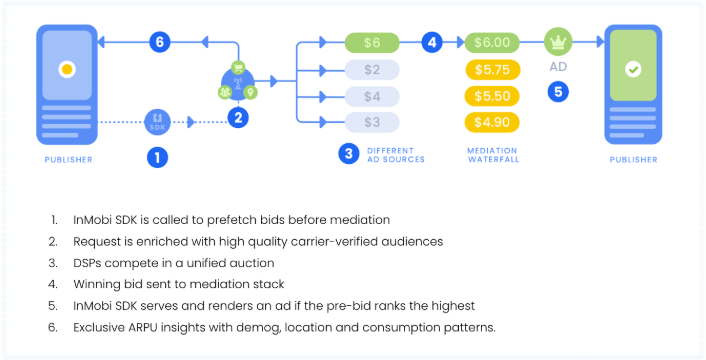 Revenue Optimization:

Boost in-app revenue with dynamic bids optimized for each user.
Maximize fills and revenue by increasing inventory exposure through simultaneous requests to 70+ DSPs that have global access to high intent advertisers.

Enriched Supply:

Secure your in-app revenue by differentiating your supply path.
Stand out as enriched supply in a crowded marketplace by augmenting your inventory with high quality audience signals while working directly with the industry's most preferred demand partners.

Optimized Trafficking:

Optimize your demand partnerships with smart bids across price points.
Challenge your existing waterfall with pre-fetched bids across price points with a single SDK call. Get the most optimal bid through unified auctions.

User Growth and Retention:

Identify and grow your high-value users through actionable audience insights.
Know your user worth in ARPU by overlapping impression data with high quality carrier-verified audiences. Get in-depth visibility into user intent as well as advertiser interest for users at a device/segment level.